1. The CHPS Database Connection dialogue will open. This enables you to connect all PC's to the same Enterprise SQL database if you have one. See The database for more information.
a.If you have SQL in your organisation populate the rest of the dialogue with the appropriate information, when the connection details are accepted select 'OK'
b.If you don't have SQL available, please download and install SQL Compact 3.5. Then, select the 'SQL Compact' option and click 'OK'.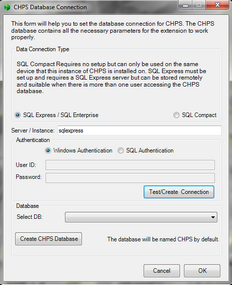 2. The CHPS toolbar is now enabled, all tools are not available until there is data in your session and you have configured CHPS.

http://cableharvesting.com/help//3-Accessing_CHPS_in_ArcMap.Setup_your_database_connection.htm
Topic Last Updated: Tuesday, 13 September 2016