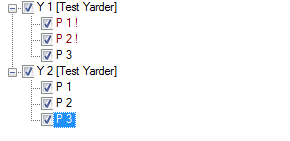 The Profile Group Tree View is a graphical representation of the Profile Groups on the Map. The selected Yarder or Profile is highlighted in blue.
Renaming Profiles
Right clicking on a Profile Group allows that Profile Group to be renamed.
Reordering Profiles
Profiles in that Profile Group can also be reordered so that Profiles are numbered consecutively, and Profile Group Reports can be printed.
Right clicking on a Profile allows either a Profile or Profile Group Report to be printed.
Profile Visibility
The check boxes control the visibility of Profiles and Profile Groups. Unticking a Profile Group will hide all of the Profiles within it.
Note: Hidden Profiles are not recalculated when settings change and will not be included in Profile Group Reports.
http://cableharvesting.com/help//5-The_Interface.The_CHPS_Control_Panel.Profile_Group_Tree_View.htm
Topic Last Updated: Tuesday, 13 September 2016